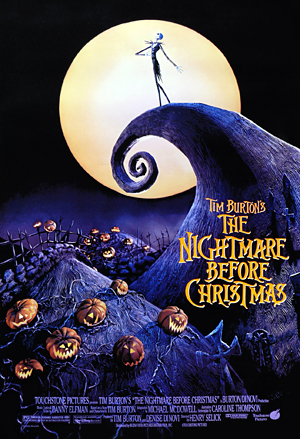 One year in some board room, Tim Burton bumped into Disney. "You got Halloween on my Christmas!", Disney exclaimed; "You got Christmas in my Halloween!" Burton retorted. Together… they still make a Christmas movie (it must be a dominant versus recessive thing).
Jack Skellington, beloved resident of Halloween Town, grows bored of his horrific holiday. In his search for more, he stumbles upon Christmas Town, and is inspired to do what they do. But, being a skeleton whose only real skill set involves being spooky, he screws it up. Also, he has to save Santa from the town miscreant, who wants to kill Santa for undisclosed reasons.
Great design, great music, great characters and great story (despite a shoehorned villain with no motivation) make The Nightmare Before Christmas a classic for any time of year, and perfect for both Halloween and Christmas.
Recommended For: Trick-or-Treaters and Stocking-Stuffers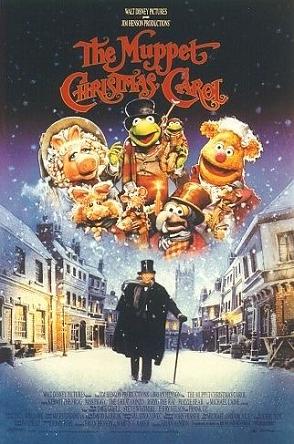 The Muppet Christmas Carol is just another film in the pile of adaptations of Dickens' A Christmas Carol. But do any of those other films have Muppets? Probably not.
It's the classic story retold: Ebenezer Scrooge (Michael Caine) is a grumpy, well-to-do businessman employing Bob Cratchit (portrayed by Kermit the Frog), paying him little and making him work Christmas. Ghosts of his old business partners Jacob and Robert Marley (the latter being an addition, for the sake of using the infamous Muppet duo Statler and Waldorf) visit him to let him know he's on the path to a lousy afterlife. Ebenezer's cold heart is turned warm as he is visited by three spirits of Christmas.
Narrated by a fourth-wall-breaking Gonzo as Charles Dickens, The Muppet Christmas Carol is a wonderful tribute to the classic novella. The usage of unique Muppets and creative puppetry for the Ghosts of Christmas Past, Present and Future gives them a weight and emotion that isn't normally communicated through anthropomorphic pigs and bears.
Recommended For: Everyone. It's Muppets!
(Written by Trevor Jeffery)